Natural Elements Aromatherapy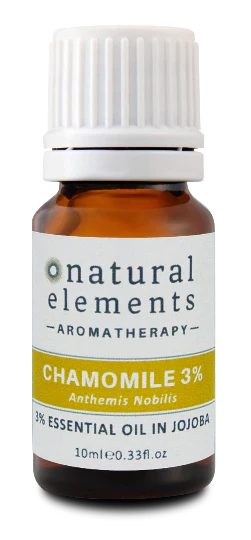 CHAMOMILE 3% ESSENTIAL OIL IN JOJOBA
3% pure Roman Chamomile in Jojoba oil
Botanical Name: Anthemis nobilis | Simmondsia chinensis
Part(s) Used: Steam Distilled – Fresh flower petals
Aroma: Sweet herbaceous scent
Note: Base Note
Roman chamomile 3% diluted in Jojoba retains the same properties as the pure oil. It may be used directly on the skin.
Uses: Inhalation, balm, body oils, body care, bath
Blends Well With: Bergamot, Clary Sage, Geranium, Jasmine, Lavender, Rose
Roman Chamomile has been diluted 3% in Jojoba and retains the same properties as the 100% pure essential oil
History: Chamomile was first used in Egypt in incense, for fevers and as an ingredient in their embalming oil. The crushed flowers were also rubbed into the skin as a cosmetic. They were believed to add luster to hair. The flowers were also sprinkled in rooms for their nice scent.
PROPERTIES
For Skin & Haircare: The soothing and calming properties of Roman Chamomile benefits all skin types particularly sensitive and irritated , itchy skin such as dermatitis, eczema, psoriasis. Cleanses and brightens blond hair.
For Personal Care: Calming and soothing properties relax and calm the stress and tension. Chamomile Roman 3% may be used directly on the skin to soothe and calm. Chamomile 3% is not recommended for use in oil burners or vaporisers.
Uses: To create a personalised skincare or body care oil, blend a few drops with your chosen Natural Elements carrier oil. For diffusion and other personal care uses refer to our How To Use section.